Share your skills and get paid
The easiest way to start making money from your audience teaching them what you know
100% free membership
Video hosting on ChampChat
72 hour payment
"I'm now making money answering followers' questions using one-to-one Q&A. There is no going back."
Mason, BJJ Competitor
"I love this tool. Saves me so much time so I can focus on coaching."
Jorge, Fitness Trainer
"ChampChat is awesome! It makes it easy for me to coach my audience and get paid."
Danny, BJJ Black Belt
All the tools you need to be a digital coach
Sell customized products and services directly from your bio link
Get paid on a regular basis with
Subscriptions
Subscribers gain access to your videos hosted on ChampChat, and discounts for 1:1 video meetings and Q&A.

Your followers can get started with a free trial. You can offer monthly, 3-month and annual subscriptions.
Start Getting Subscribers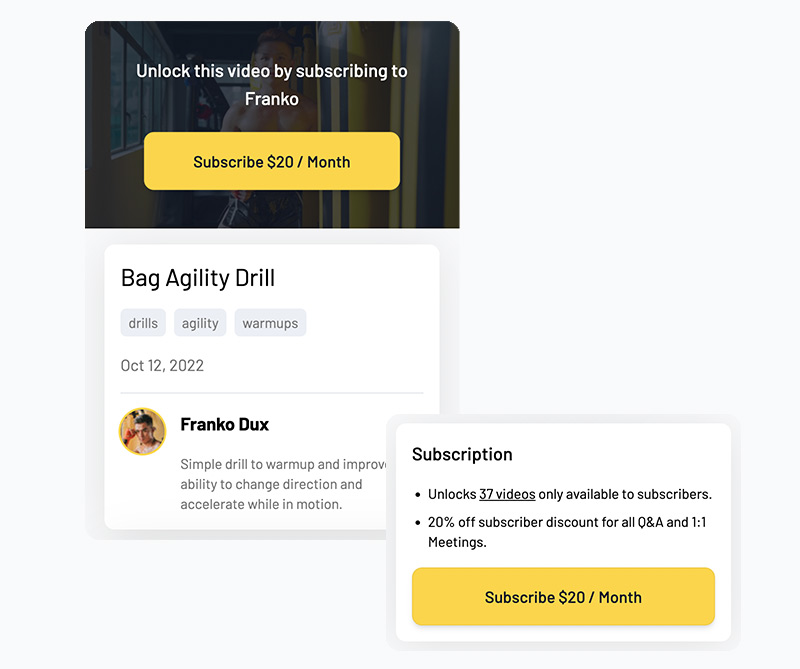 Answer Follower Questions With
Video Q&A
Your followers make requests, and you reply with a personalized response. Use for AMAs, technique/form video reviews, shoutouts, etc.

Respond with short videos or text messages to answer their questions on your own time.
Setup Q&A's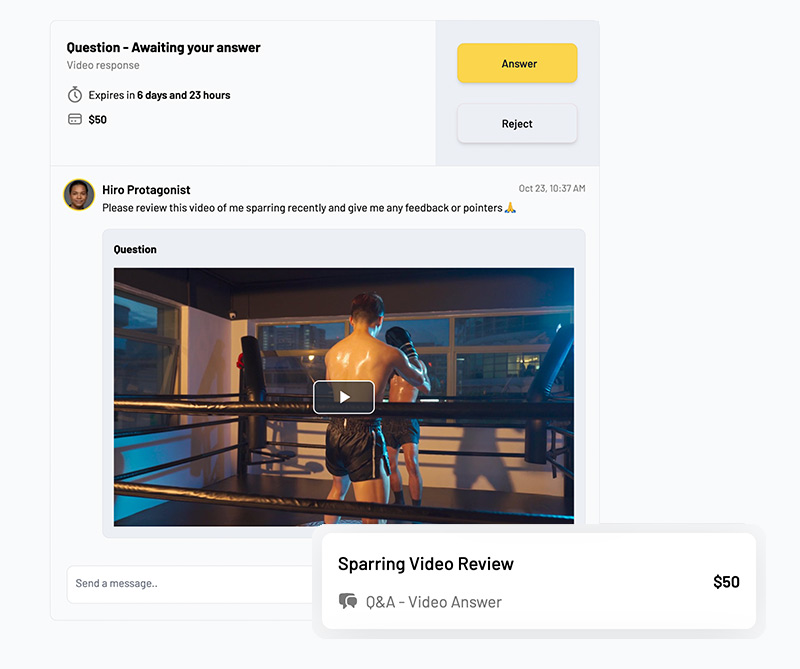 Video chat with your followers
1:1 Video Meetings
Coaching, lessons, training plan reviews, or any other format. Set the duration and charge any price.

ChampChat will handle the scheduling. Set your availability and your followers can book a timeslot.
Setup 1:1 Meetings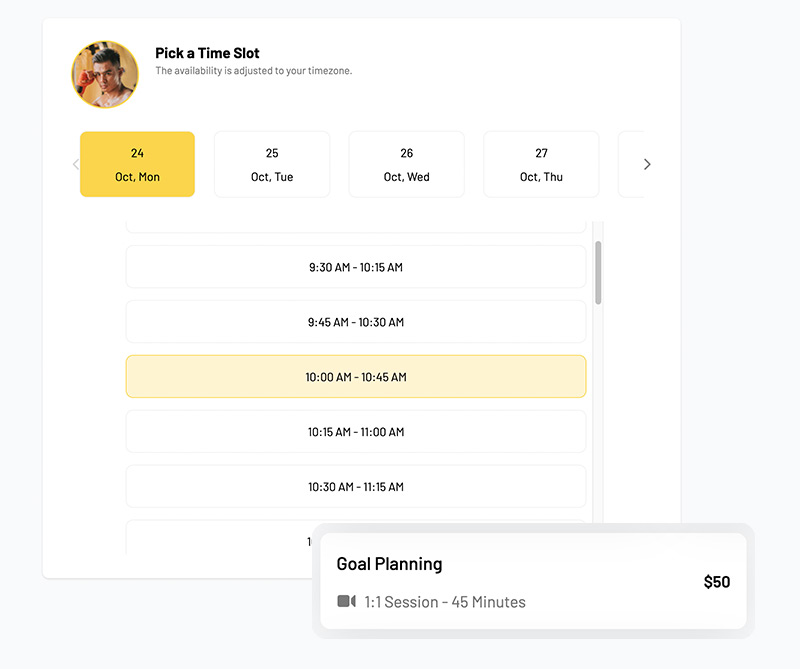 Join our Growing Team
Join our community of experts, coaches, and athletes making money using ChampChat.
ChampChat membership is
free!
No monthly membership - we only charge a 7% fee for bookings (Q&A, live 1:1 meetings) and a 15% fee for subscriptions. The transaction fee covers everything. You own 100% of your content. We'll even move your videos from your previous tool with our free concierge migration service.
Join For Free!
Join For Free!
Frequently Asked Questions
You can offer Subscriptions for premium content, Q&A, or meetings. Coaches, athletes, and experts of all kinds use ChampChat to make money teaching. Each product is optional, and you can set the price. You can use your ChampChat profile as your bio link. Customize your profile and describe your experience and accomplishments . Include links to other webpage and products/services you offer anywhere on the web.

Subscriptions allow your audience to pay to unlock premium video content and discounts. You can build an instructional video library of lessons for your audience. Then answer follow-up questions through comments, Q&A, and Meetings.

Q&A allows your audience to ask questions(text or video) and get a personalized response (text or video). You can respond on your own time, within 7 days, before a request expires. The typical video response is 5 minutes. Use it for any type of feedback or questions. As one example, a coach can review an video of an athlete's form and provide personalized feedback.

Meetings allow your audience to book 1:1 video meetings based on your availability. You can then confirm the meeting time or suggest new times. You can use meetings for individualized coaching, goal setting, and live Q&A.

Membership is 100% Free. There is a 7% fee for bookings (Q&A, live 1:1 meetings) and a 15% fee for subscriptions, per successful charge. This covers payment processing, hosting, and other services. You set your own rate for subscriptions and answers.

You can be paid directly to a US or EU bank account or to a US debit card (non-prepaid Visa, Mastercard or Discover).

We process payments to your account within 72 hours. This includes new subscribers, membership renewals, or when you respond to an answer using Q&A.

We use Stripe to process payments. If you don't already have a Stripe account, we'll send you a link to set this up - it only takes a few minutes. It's free and secure.

ChampChat works from the website both on desktop and on mobile for you and your customers. You don't need to download an app.

We'll help move your videos for you, just fill out the free concierge migration form. If you have subscribers on another platform we'll also help strategize bringing them with you to ChampChat.

Yes. You have access to the name, email address, and subscription status of your subscribers.
Explore all FAQs